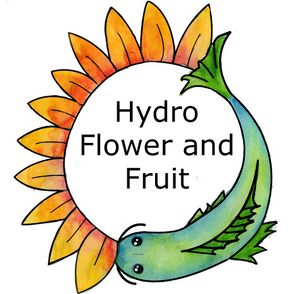 This is a dry form mineral mix, that was formulated for continued use in hydroponic systems, unlike most hydroponic mixes, that from time to time you have to dump all water in the system in order to maintain balance. In the long run you will save lots of water and no more leaky bottles of solution to deal with.

What's in the Flower and Fruit mix?
Flower and Fruiting Hydroponic Kit Includes

Iron
Calcium
Potassium
Magnesium
Phosphate
Nitrate
.This dose will take care of the mineral needs of flowering and fruiting plants in hydroponic systems when the correct amount is added to your system on a regular basis.You can also grow leafy greens and herbs along side your flower and fruiting plants with this mix.

This mix is to be added every 2 weeks at a rate of 1.7 ounces per 100 (9 doses, 18 weeks) gallons, or 0.17 ounces per 10 gallons. We offer 3 sizes, 1 pound, 5 pounds and 10 pounds.
A popular add-on to our hydro mix is the micro nutrient dose. You will only need to add it once ever 2 months for flowering and fruiting plants.

Micro Nutrient Dose

Borate

Copper
Manganese
Molybdenum
Zinc